Solehigh Society is an up and coming clothing brand in Montgomery County Maryland. Deandre Frye, the CEO of Solehigh, created his own path which is opposite of the traditional four year college plan. So far this path has seen success, love, and support. Despite the struggles of growing up in today's society, Frye and all of the members of the Solehigh family keep a positive attitude and a smile on their faces at all times. The Solehigh movement has given hope to many creatives within the area. It's inspiring, it encourages individuals to strive for their passions, to take risks, and to open unknown doors. It's more than a brand, it's an outlook, it's a perspective, it's living life the best way you can with no regrets.
Lets take a deeper glance into the mind of De'andre Frye and the Solehigh Company.
The Juice Box: Explain how Solehigh Society came about. Describe the Solehigh mission — What are Solehigh's core values and aspirations?
Solehigh Society (De'andre Frye):  Well around the summer of 2010  myself and a couple of my boys were just hanging around. We wanted something to separate us from every other "crew" (non gang affiliated) so we just started coming up with different ideas for a name. Sole came about because I pride myself on my foot work. Its been that way since middle school. Who didn't love Jordans, Nikes etc. I called my self "SoleFly" throughout high school so the "Sole" came natural.  From there we went with High because of our obvious love for mental relaxation…. So we have Solehigh but we wanted to add another piece too it.  Society just rolled off my tongue. So there we have it: Solehigh Society. Our mission is to show our generation that you should never get caught up in the "hype" of what you should do in life.  Live your life with no regrets.  Don't make life decisions based on what society deems acceptable.
The Juice Box: You are so passionate about Solehigh. Where did all of this over pouring passion and devotion originate?
Solehigh Society (De'andre Frye): I love art. I love drawing. Its always been a big part of my life up until I graduated high school. There wasn't enough time to do that and school but college wasn't really working for me either. So I started drawing again and it led me here. I'm so passionate because I feel like I'm finally accomplishing something in life. I found something that I love to do and I'm proud of it. It feels good when someone gives you compliments or appreciates your products. It makes all the hard work worth it in the end.
The Juice Box: Solehigh just dropped its newest design "Everything High" this past month. Describe the inspiration behind the newest Solehigh product. What's next for the brand?
Solehigh Society (De'andre Frye): The new design was drawn by my boy Kevin Garcia. My partner Aaron actually dreamt the idea. He described it to Kevin and it came out perfect. Everybody does the 3 goggle but SoleHigh was one of the first to start it in our area so it was only right we made it our logo.  Right now we are working on our online store and preparing our summer line.
"Everything High"
The Juice Box: Is Solehigh going to partake in any other endeavors besides streetwear? If so explain.
Solehigh Society (De'andre Frye): Yea we are actually.  We have a hip hop artist in the society. Elder will be dropping his debut mixtape this summer called "Mind Over Matter." We also plan to start sponsoring local Djs. We host party events as well.  Our first event on the west coast will be in Santa Barbara California next month.
Elder – Mind Over Matter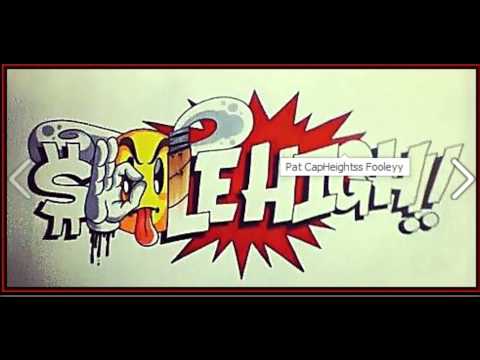 The Juice Box: There are so many clothing lines these days, tell us why Solehigh has what it takes to excel in an industry where so many folks get lost in the shuffle. How will Solehigh determine its personal success?
Solehigh Society (De'andre Frye): We are just going to stick to what we know. We are not going to follow any trends or do something because it's  what everyone else is doing. We feel originality is key. It's so important to be yourself. If you live your life trying to fit in with what others deem cool then you will never truly be happy. We all have this same mind state and its working so far.
The Juice Box: Name The Three Things You Want Everybody To Know About Solehigh Society. Anything you wish to clarify, anything personal you'd like to share, any meaningful experiences you'd like to talk about? Any fun facts? Spit Your Sole:
Solehigh Society (De'andre Frye):
1. Sole High Society is a brand. We don't just do apparel. We host events and have artists we sponsor.
2. Our whole attitude is living for the moment. We are just a bunch of young adults who enjoy life and want to do what we love.
3. We want to represent for our area. There are many people branching off and dong their own thing but no one really represents Moco. We want to give everybody something to be proud of. Whether it's with the clothing line or music.
The Juice Box: Dre, sneakers have been a crucial aspect of your life since your youth. Share your love for sneakers and why they have been such an integral part of your life. How has the love for Sneakers contributed to the Solehigh movement?
Solehigh Society (De'andre Frye): Sneakers are another style and market to appeal too. Almost everyone loves sneakers so if we incorporate those images in our designs its sure to grab attention. Also we spell soul "sole" instead. That's our our way of letting everyone know sneakers are important to our whole brand. My love for sneakers stems from way back in the day. My mom actually told me my first pair of jordans were the taxi 12s. As a kid growing up, everyone had to have the new pair of hot sneakers. It's just what we did. As I got older I learned to appreciate each pair more and more. Its like a tradition.  I remember going to sneaker events in middle school and early high school.  It's crazy how shoes would bring people from all over the world to one place to show off there kicks. The culture has changed a little since then. The value of shoes aren't what they used to be because of everything retroeing but real sneaker heads know that the nike air on the back is a tradition.
The Juice Box: Which pair of shoes do you own has the most sentimental value? Why?
Solehigh Society (De'andre Frye): My Original pair of the first spizikes. The white, red, and green color way. They have so much value because my mom returned her brand new furniture just so I could have them. She was also very sick during this time so the fact she even thought about me made me appreciate them more then any other shoe. Ive had them since 07.
Solehigh will be re-releasing their classic "From the Bottom Up" design this Thursday. Make sure to cop. 
Twitter:
CEO - @Dresolehigh
Co-Founders - @Jgwopp & @AceSoleHigh
La Familia - @CaptainSoleHigh  @FreakFried  @DeanFool  @301e_time  @Papa_Shaff
Category: The Juice Box, Uncategorized