Fresco Sounds made his way down to the DMV this past year to attend the University of Maryland. Originally an MC from Mt. Vernon, New York, Fresco provides audiences with an in depth look into his mind and soul through engaging and heart felt tracks. Fresco Sounds is a fearless MC who will shatter freestyle battles to bits. Never scared and never timid, Fresco Sounds takes every opportunity at his disposal. You can catch Fresco Sounds opening up for Pac Div this Friday at the University of Maryland.
I had the chance to catch up with Fresco Sounds to chat more about his career and passion as a musician. Take a look below to understand Fresco's vision, mentality, and character.
The Juice Box: Tell us more about High Hopes Drunk Faith. What missions and messages were in mind while making this mixtape?
Fresco Sounds: High Hopes Drunk Faith was a project that I felt came at the right time. I was going through influential changes in my life, leaving home to go somewhere far for school and I knew that in the back of my head it was only to invest in a better lifestyle for me and my family. The title "High Hopes Drunk Faith" is ironic in itself because I see things like getting high or drunk at times where it's not for festive causes to be hindrances. They're symbols of things that can stop you from having a clear mind and knowing how you want to progress in life. Yet it's ironic because you have to have high hopes to believe that with perseverance you can get to your idea of "the throne." Much of the album discusses my relationships with people and how I've tried (and sometimes failed) to make those bonds last. I also touch on my progression as an artist. I believe that this past year has been a blessing to gain experience as a studio artist and really put together a cohesive project. Overall, the album was a symbol of belief that we can all move past obstacles to achieve whatever our personal goals may be.
The Juice Box: "Left to go to college I said I see yall when I see yall, came back home to an emotional freefall." Tell us about the transition as an artist moving from NY to UMD to pursue your college education. How has this affected your inspiration and feel for music? Has living in college park added any particular dynamic to your music?
Fresco Sounds: My transition from New York to College Park, although only 4.5 hours apart, was the farthest thing from easy. A lot of my music is based on my experiences living in areas where it's hard to succeed, like my hometown Mt. Vernon, NY.  People have struggles such as paying for a simple phone bill, or having their own car & that's the only life I've known since a kid. When you go to a school like UMD, you see a whole new world where there's rich, poor, middle class, all races and it's a lot to take in. People's problems are different, people communicate with you differently. Fortunately, I use experiences that take me by surprise as a new approach to writing. I'm able to branch away from the material that I'm so used to, and come up with new topics. I'm also exposed to new music and see what other kind of music people like, so I create a larger taste and come across better things to emulate or sample for production. What's most important is that I can illustrate, through my music, my progression as an individual to people back home and hopefully inspire them to work hard and succeed in their lives as well.
The Juice Box: "But when it comes to problems there's better ways to solve them so I scroll through my phone find god and call him." Throughout the mixtape, you talk a lot about personal downfalls and self-disappointment, but you mention how you've grown. You also implement many soulful samples as almost a way to cope with certain pains. Can you touch on some of your past experiences? Describe your transformation as an individual.
Fresco Sounds: I've had several occasions in my life where I was challenged and often times didn't succeed in overcoming my obstacles. Being young and stupid, friends and I would pick out fights with anybody we'd come across at clubs or in the street just to boast this image that we were invincible. I had no idea how much grief that could put on my mother while she was by my side every court date or spent nights asking herself where she went wrong. I think I really reached a point in maturity when I began to take a grown stance on the situation and realized that no parent wants to see their kid in danger. I would not want to see my son end up in jail or in rehab. The feeling of guilt is something unbearable to live with. I'm not afraid to say "I fucked up" in my music. A lot of Hip-Hop is based off of bragging and trying to make a shining image of one's self. I rather tell you, I'm a fucked up person for making people I care about suffer. But this is my way of apologizing. Nobody's perfect and that's one of the main points I try to express in the most personal ways possible.
The Juice Box: "Let me put a new wardrobe on the globe and change the world forever." Explain what you would like to change. What's your master plan?
Fresco Sounds: As of right now, my game plan is musical evolution. It has been a while, a REALLY long time since I've heard an album be released where every single song was a single. My favorite example of this is Michael Jackson's Thriller. Music is usually produced for a demographic. New Hip-Hop being released is for the younger heads. Bee Gees, Miles Davis, or Queen is usually listened to by an older crowd. What if we could produce an album that is purely timeless. I use Thriller as an example because I know grandparents, parents, children, and two year olds that wish they could moonwalk to Billie Jean. If I can touch several generations at once, with a collection of songs, and have be first in your tape deck for hundreds of years, then my job is complete. It is a long-shot, and essentially, what it sounds like I'm saying is that I want to accomplish as much as Michael Jackson or The Beatles did in their career. The passion I have for music is so tremendous that I have crazy thoughts that maybe we could one day. Who's to say we can't?
The Juice Box: "For everyone who don't like it, I got a 100 that will, girl come to Brazil." You have Brazilian roots. Can we expect to see any Brazilian influences in future projects? If so what are some of your plans to incorporate this feel in your tunes?
Fresco Sounds: Oh absolutely there will be fusion of Brazilian music somewhere in the stuff I produce. The great artists, both old and new school, are too melodic and talented and inspirational not to be used. I am the only person in my family born in the United States but I consider myself more Brazilian than American. Some women think Portuguese sounds sexy so I might have to add a few lines regardless if they don't understand me. But drum patterns in the genres Samba and Pagode are so full of life that's hard not to move your body when you hear it. I'd like to incorporate the Samba drums somehow with American Hip-Hop as a new vibe and rhythm. Also extremely acclaimed artists such as Alcione, Jorge Aragao, or Martinho Da Vila have endless music that I'd like to sample somehow.
The Juice Box: Name three things about you that you want everybody to know. Be creative. Anything you wish to clear up, anything personal you'd like to share, any meaningful experiences you'd like to talk about? Any fun facts? Spit Your Soul:
Fresco Sounds:
1) I started my career as a musician actually as a battle rapper in New York. My first time was as a 14 year old who accidentally walked through a group of people, mostly in red, yelling at the top of their lungs some rhymes making fun of someone in the crowd I recognized. I jumped in to defend him and spit about 10 bars going in on a twenty-year old dude and people went crazy that a small white-looking kid had for a split-second embarrassed a grown man. I don't remember what I said but witnessing a real battle and taking my 10 seconds of fame became the spark to my flame as an artist.
Fresco Sounds Gets Crowned At Circles 13 MC Battle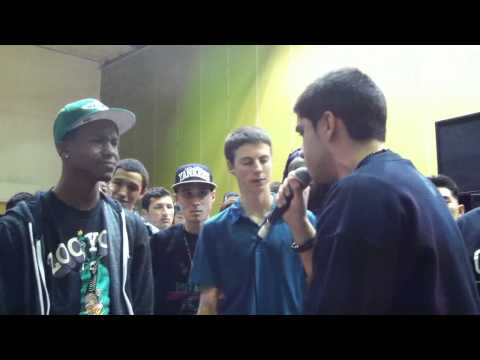 2) High Hopes Drunk Faith, the name of my recent album, came from one line in a song that I never officially released in a song. The line was "High Hopes Drunk Faith, looking like no one's safe." When I had wrote the line I wasn't even sure myself what it meant but it sounded hot. Then after a couple ideas of a mixtape name like "The Mascot," I decided to take a line and make it an album; we made it a motto.
3) I don't play videos games that much, but when I do, it's that old school Tekken.
The Juice Box:  Which pair of shoes do you own hold the most sentimental value? Why?
Fresco Sounds: I used to own a pair of Jordan I's, black, red, and white that was probably the shoes I held onto the longest. For anybody who is familiar with Jordan pricing, it ain't cheap. My mother bought me Reeboks as a child for as long as I could remember. Finally when I made my first check at 13 years old, I splurged and copped a pair of J's. It's just an accomplishing feeling. I was able to look down on my feet and knew I walked the ground with a pair I earned. I don't ask my mom for money, especially when I know we are all in an economically-challenging situation, so it was just a good feeling that I held onto.
Fresco Sounds – Used To Be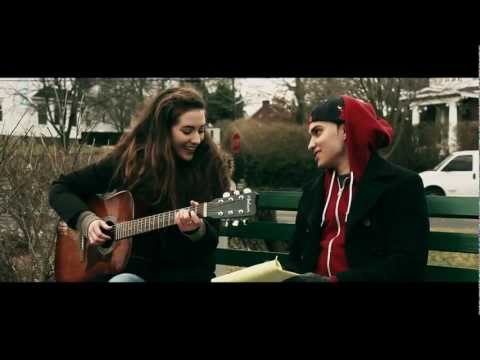 Twitter: @FrescoSounds
Category: The Juice Box